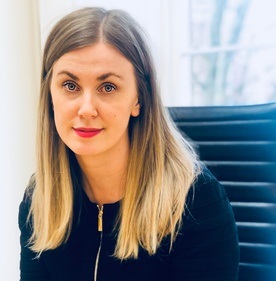 Senior Solicitor
Dip. L.P., N.P.
Telephone: 0141 473 6788
Email: This email address is being protected from spambots. You need JavaScript enabled to view it.
Rosalyn McTaggart joined the Beltrami team in 2016, bringing with her a wealth of criminal court experience.
Before graduating from Glasgow University in 2009, Rosalyn spent many years working in the charity and voluntary sector learning the criminal justice system from the inside out. On completing her Diploma in Legal Practice in 2010, she spent two years training in criminal defence and family law, developing a broad client base and gaining valuable experience at the coal face of the courts.
On qualifying as a solicitor in 2012, Rosalyn began working at a busy and well-respected Glasgow criminal defence practice, proving herself to be a valuable court practitioner. She has conducted Sheriff and Jury trials at Sheriff courts across Scotland, including at Glasgow, Paisley, Edinburgh, Ayr, Kilmarnock, Hamilton, Inverness, and Aberdeen. She has a high success rate, becoming well known and respected for her attention to detail, eloquent advocacy and rigorous cross-examination.
Rosalyn came to Beltrami & Company in 2016, knowing them to be one of the most highly regarded criminal defence firms in Scotland. She brings with her an approachable attitude, which is liked by her clients, who can rely on her to fight their corner in a professional and vigorous manner. In addition to appearing in her own right, she has an extensive caseload of matters prosecuted at the High Court. Rosalyn's exhaustive preparation, and good relations with Counsel, allow for the most serious of allegations to be thoroughly and properly prepared, whilst allowing clients feel supported throughout the process.
Rosalyn has continued to further her expertise, beginning with studying with the Royal Apothecaries of London towards the Diploma in Forensic Medical Science in 2018. Rosalyn is currently a member of the Law Society of Scotland's criminal law committee. This responsibility has brought about a number of appointments allowing her to continue to develop her professional credentials and to advocate not only on behalf of her clients, but also her profession. To this end, Rosalyn has given evidence to the Justice Committee at the Scottish Parliament, and has been appointed to join a judicially-led review of the conduct of sexual offence cases, which is being chaired by Lord Justice Clerk, Lady Dorrian.
"In looking back over the last 20 months at many times we wondered how we would get through it, and undoubtedly your support and practical advice were vital in helping manage this at each stage…this was hugely appreciated – more than we can say. With many thanks again for your assistance towards the outcome and with our best wishes. "
"My case was, unfortunately, not a nice subject…I always felt confident that Rosalyn was on top of proceedings and kept me well informed as to the process and what the likely outcome would be. I am extremely thankful I was represented by her, she knows what she is doing. I don't intend to need the services of a lawyer again (not in the criminal sense anyway) but if I do I'd be more than happy to deal with Rosalyn again and would highly recommend her services."
" I felt terrified as I had never been in trouble before. I was looking for someone guide me and give me the best advice possible. And yes I found that at Beltrami & co. I met with Rosalyn McTaggart and the level of service was fantastic. She made me feel at ease and explained everything to me step by step! The service was excellent. I would definitely recommend Beltrami & Co and Rosalyn McTaggart as I don't think I would have got through that difficult time without her. She is a credit to the company and I wish her all the best in the future."